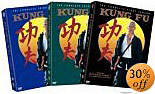 All Three Seasons
Available for Pre-Order
1974-1975 - Story Editor for part or all of this season was Norman Katkov. [This season seems to have been broadcast in even stranger order than previous ones. When it was releasing the series to stations for broadcast, Warner Brothers was sending them in the following order - which seems more reasonable when clothing changes and other internal indications are noted and when production numbers are taken into account. The only thing I might want to change is to put "The Vanishing Image" after "Blood of the Dragon" since it has another Order of the Avenging Dragon assassin and they are explained in "Blood of the Dragon." We have no idea yet of the order they will be in on the DVDs so when we created this, we used the standard way Warner's was releasing them at that time — note, however, the broadcast dates, which are from TV Guide unless noted, for original broadcast order.

Third Season Episodes

The third season had the only episodes set completely in China like: the two parts of "Besieged", "The Thief of Chendo", "The Forbidden Kingdom" and "The Devil's Champion". In these episodes we get to see a lot more of Master Khan and Master Po than the brief glimpses we got in the flashbacks in episodes from the previous seasons.

The season ended with the story of Caine finding his brother (and his nephew) in the last four episodes of the series: "Barbary House", "Flight to Orion", "The Brothers Caine" and "Full Circle".

"The Demon God", directed by David Carradine, was a unique kind of episode with no living creatures except for Caine and the scorpion which stung him. And there were some duds this season (not particularly fond of "Cry of the Night Beast", "Battle Hymn", "The Last Raid" or "Ambush"), but the episodes in China and some of this season's other gems make up for these.

The third season DVD, due out August 23, 2005, will have:

Commentary by David Carradine
24 episodes on four discs
"David Carradine's Shaolin Diary: Back to Beginning": new documentary shot in China follows David Carradine as he returns to the Shaolin Temple Monastery

We do not know what to expect from this new documentary, but we are looking forward to such a rare peek inside the current Shaolin Temple. Pre-order the DVD from Amazon at 30% off with free shipping.